What do you want to accomplish this year? What are your dreams, goals, desires? For the most part, when people are thinking up New Year's resolution ideas, they tend to lean towards 4 main life categories that they want to improve on:
Money Travel Learning Health
When it comes to achieving goals, it's important to write them down and have a clear vision for what you really want. Saying "I want more money this year", or "I want to lose weight" is great, but it's best to be specific about your goals.
Write down exactly how much more money you want to earn, and how much weight you actually want to lose. What would that feel like? What would you do with more money? Why do you want to lose the weight?
The more detailed and specific you are about your New Year's resolutions, the more likely you are to achieve them.
In this article, I'll share my top 25 New Year's resolution ideas and tools to help you earn more money, travel more (for less), learn new skills and boost your overall health.
New Year's Resolution Ideas: Earning More Money
This is the #1 resolution for most people. Who doesn't want to earn more money? More cash equals more freedom. Whether you want to make more money so you can go travelling, pay off your debt or make a big purchase, this list will help you put some extra cash in the bank.
Online Surveys
Want to sit around in your pajamas, with a cup of coffee in hand and make money? Paid online surveys are probably the easiest side hustle out there. You won't become a millionaire, but all you have to do is answer surveys or watch TV in order to get paid.
Every penny counts when it comes to saving money.
There are many spammy sites out there, but these are some of the legitimate ones:
SwagBucks (earn $10 just for signing up) Survey Junkie  Inbox Dollars (earn $5 just for signing up) American Consumer Opinion
Check out our full list of paid online surveys and start earning some easy money in the new year.
Work Remotely
If remote work is one of your New Year's resolution ideas, then you'll want to check out this website. There are some freelance jobs and part-time work listed on FlexJobs, but this platform will also connect you with well-known companies that are looking to hire remote employees full-time. These are well-paying jobs!
As with anything online, there are numerous scams out there. FlexJobs hand picks and siphons through all of the junk and only posts the legitimate jobs. There are over 50 different career categories available, from marketing and account management to medical and engineering, there's bound to be a job that fits your skill set.
Click here to learn more about FlexJobs. Use promo code NOMAD when you sign up and receive 30% off the membership fee. Also, check out our full article about remote work here.
Find Continuous Freelance Work
Working as a freelancer is great, but with that comes an insecurity about your salary – which is constantly fluctuating. Crush the feast / famine cycle this year. Rather than finding a few one-off jobs, wouldn't you rather be fully booked? Solid Gigs offers freelancers just that, solid gigs!
The team manually searches through over 100 job boards to find the top 1% of freelance work available. Then, they send you a list of the best straight to your inbox on Tuesdays. Plus, you'll receive access to 100 premium video and written lessons, and interviews with expert freelancers. Spreadsheets, templates and other tools are also available to help you succeed.
If you'e a designer, developer, writer or marketer, you'll find jobs suited to your skills on Solid Gigs. Sign up here and enter the code GOATS2 to receive your first month for just $2.
Start a Blog
How could I not put this on the list? In my opinion, this is one of the best New Year's resolution ideas out there. If you've been following our journey, you'll know that we earn a six figure income from this travel website, Goats On The Road. We want to help you start a blog, share your knowledge with the world and earn some money.
We write about travel and making money on the road. But, a blog can be about any topic: parenting, pets, crafts, food, fashion, tech…the list goes on. If you are knowledgable and passionate about a particular subject, start a blog and start making more money this year.
Can't think of a blog name? That's fine, you can start your website and come up with the name later on.
As a bonus, if you start your blog through this link, we'll send you our Beginner's Blogging Course, Blogging Tips ebook and SEO Checklist for free. Plus, you'll be added to our VIP Facebook Group.
See Also:
10 Expert Tips To Become a (Successful) Blogger  10 Most Important Steps For a New Blog How Travel Blogging Changed Our Lives: Our Journey to Financial Freedom Teach A Language
These days, you don't actually have to move abroad to teach foreign students. You can do so from the comfort of your home. Teach english online and make money from anywhere that has a solid wi-fi connection.
If you're from Canada or the USA, you'll want to become a VIPKID teacher, as you can earn $22/hour, while working from anywhere in the world. This is the top choice for Canadians and Americans.
For those of you from other countries who want to become online teachers, you'll want to either check out this post, set up a profile with Skillshare or have a look at Italki.
See Also:
Online English Teaching Jobs: Get Paid With These Top 5 Companies How To Become a VIPKID Teacher and Earn $22/hour Online Teaching Jobs in China: Earn $2,900 With This Legitimate School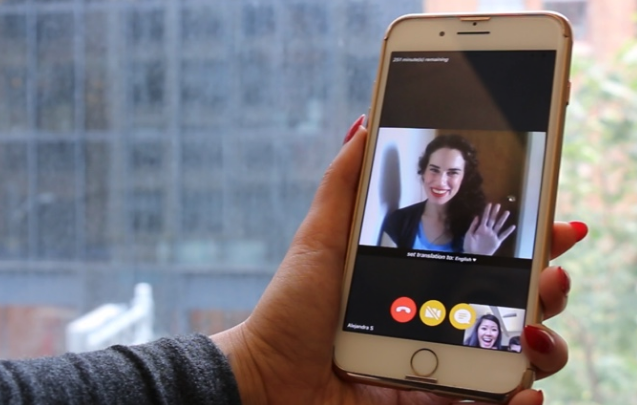 List Your Home on Airbnb
Airbnb is a game changer for travellers and home owners. It has opened up opportunities for people to make some extra cash on the side, and to connect with travellers. Whether you want to rent out a room in your home, list one of your investment properties, or rent out your house while you're away on holiday, Airbnb is the best platform to do so.
Depending on which part of the world you live in (and which city), you can make a lot of money on the side by renting out your property.
Click here to learn more about becoming an Airbnb host and add it to your list of New Year's resolution ideas.
See Also:
Airbnb Discount Code  10 Best Airbnbs in Paris Top 10 Unique Airbnb Properties Around The World The Airbnb Scam Travellers Need To Know About Become an Uber Driver
This is one of the best ways to earn some cash on the side. If you work during the week, you can pick up shifts on the weekend. If you work during the day, you can drive in the evenings. You are your own boss and choose your own schedule. And obviously, the more driving you do, the more money you will make.
On average, in the United States, Uber drivers earn between $8 – $11 / hour after accounting for driving costs. If you live in New York, Uber drivers earn around $29 / hour! The amount of money you'll earn really depends on which city you live in, which hours of the day you are driving, how many passengers you pick up per hour, etc.
Click here to learn more about becoming an Uber driver.
Create Your Own Online Course
Online courses are popular right now. We ourselves have created two online courses, which include video tutorials and downloadables. For those of you who want to easily set up a course and teach the world a particular skill, Teachable may be the platform for you.
Basically, if you are knowledgable in any topic (art, tech, culinary, design, etc.) you can create professional online courses and sell them to your students. Teachable makes it incredibly easy to create, edit, upload and sell. It's the all-in-one course builder.
Click here to learn more and become a course teacher with Teachable.
New Year's Resolution Ideas: How To Travel More
As soon as the new year approaches, everyone starts searching for the Cheapest countries to visit, or if you're from the northern hemisphere and want to escape the cold, you're probably searching for the best places to travel in January. No matter when you travel, or where, these tools will help you see the world…for less.
See Also:
How To Travel The World When You Have Absolutely No Money How To Travel For a Year on $5,000  House Sitting
I can't recommend house sitting and pet sitting enough. In my opinion, there's no better way to receive free accommodation around the world. If you like to travel and love animals, then this is one of the top New Year's resolution ideas for you.
Most of the house sitting jobs are also pet sitting gigs, meaning you'll be taking care of a cat, dog, bird, fish, etc. while living in someone's home. For homeowners, having someone take care of their home and pets is great as it means their fur baby won't have to be in a kennel while they are away, and the house will be safe and well taken care of.
You'll be able to live like a local, receive free accommodation and have a furry friend. Typically, a vehicle will be available for your use, and in some cases you will also receive a salary.
When looking for a house sitting job, you'll probably notice that most of the available sits are in the UK, USA, Australia, Canada, France, Germany and New Zealand.
Having said that, we've only ever pet sat in tropical destinations – Barbados, Grenada and Costa Rica. Plus, we've turned down offers in Italy, Qatar, Thailand, Mexico and Guatemala. House sitting jobs are available around the world.
Click here to see the available homes and learn more about the most popular house sitting website online. Trusted Housesitters is the only site we've ever used and we highly recommend it.
See Also:
Trusted House Sitters – How To Join & Get Your First Job House Sitting Jobs – How To Find Sits Around The World 10 Reasons Why House Sitting is The Ultimate Job 10 Things To Do After You Land Your First Pet Sitting Job Travel Hacking
Another epic way to receive free travel this year (or discounted travel) is to learn about travel hacking. Some people don't like the word "hack" as they think it means to scam or cheat, but in reality, there's nothing illegal about travel hacking. It's a great way to get free or discounted flights, hotels, car rentals and more.
Travel hacking can be done by using credit card points, or just various tips and tricks.
For Americans, you have some incredible credit cards at your disposal which offer high points when you purchase various items. The most popular card is the Chase Sapphire, which offers 50,000 points if you spend $4,000 in the first 3 months of having the card. That's $625 in free travel when booked through Chase Ultimate Rewards.
There are many more pros to having this card in your wallet. Click here for a full review.
For those of us from Canada, our credit card options aren't so great! But, after a few years of using our credit card, we were finally able to book return flights from Grenada to Barbados, and from Grenada to Ecuador, using just our credit card points. It may have taken us a while, but the free flights were worth it.
See Also:
Travel Hacking For Beginners: A Guide To Saving Thousands On Travel 10 Priceless Travel Hacks We Use All The Time Opt For Uber
Rideshare programs are a great way to save money on transportation. Plus, with companies like Uber and Lyft, there's no exchange of cash or debit cards, you don't have to stand on the side of the road and hail a cab, you can follow your driver on the map to see where they are, and it's much more affordable than taxis.
If you use the code: dariecesue, you'll get your first ride with Uber for free.
After that, you can invite your friends to use Uber (you'll see how to do it on the app) and you'll receive another complimentary ride.
Not only can you receive free rides and get from point a to point b much cheaper than with traditional methods, but (as I listed above) if you become an Uber driver, you can earn some cash on the side. Click here for details.
Choose Cheap Countries
This may seem obvious, but if you want to travel more this year, start with choosing the cheapest countries to visit. If your funds are limited, you'll want to travel somewhere that your money will stretch further.
Destinations in Asia, Central America, Eastern Europe and parts of South America are known for being very affordable – especially for those from counties with strong currencies (USA, Europe, UK).
If your budget won't allow you to fly, stick to your home country! Explore your own city, or a neighbouring state. Take a road trip rather than a flight. But keep in mind that you can often find very affordable flights if you book in advance, use flight comparison websites or take a trip in the off-season.
See Also:
Cheapest European Countries – A List of The Top 10 You Can Visit on $50/day Cheapest Countries To Visit – A List of The Top 10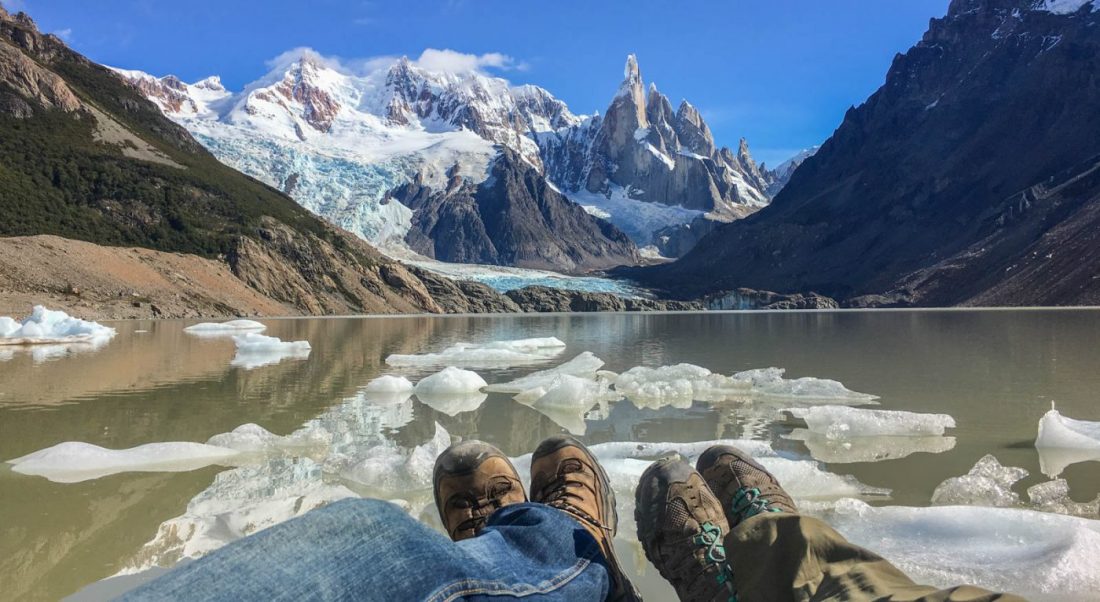 FAM / Press Trips
FAM (Familiarization) Trips and Press Trips are for those in the travel industry who are reviewing destinations, hotels, cruises, tour companies, etc. and writing about their findings. As travel bloggers, we've been on numerous press trips, which offered us free travel and in most cases, a salary.
If you want to learn how to become a travel blogger, this is one of the perks you can look forward to. Enjoy 5 star luxury, business class flights, unique events, awesome activities and fantastic food. In exchange, you write about the experience on your travel blog, make videos for your YouTube channel and share on your social media accounts.
See Also:
FAM Trips – How to Get Paid For All-Inclusive Travel  Our Experience Working With The Chicago Tourism Board  Getting Paid to Scuba Dive: Our Experience Working With the Indonesian Tourism Board Trekking in Kyrgyzstan: Plotting a Trekking Route With The Tourism Board Workaway
If you're looking for New Year's resolution ideas that involve volunteering and exchanges, then this is for you. Workaway is a cultural exchange company that has been around since 2002. It promotes homestays, farmstays, working holidays, volunteering, language learning and cultural exchanges.
Essentially, you volunteer your time helping out on a family farm, at a school, in a village, at an eco-lodge, at an animal sanctuary, etc. and in exchange for working a few hours a day, you receive free accommodation and food.
This is an incredible way to meet new people and put your skills to good use around the world. It's what being a responsible traveller is all about! Click here to learn more about Workaway.
WWOOFing
WWOOFing (World Wide Opportunities on Organic Farms) is another program where you help out around the world, but these jobs are on organic fruit and vegetable farms, wineries, dairy farms or other remote plots of land. You'll have to pay 20 GBP ($25) to sign up as a WWOOFer, and that membership fee is valid for one year.
Your stay on the farm is free in exchange for you helping out each day.
Click here to learn more about WWOOFing around the world.
New Year's Resolution Ideas: Learning New Things
If you're not learning something new each day, or trying new things, then life can become pretty dull. In the new year, it's time to get your brain working and learn something new! There are many ways to do so, here's a list of my favourites:
Learn a New Skill With Skillshare
This platform is a great tool for those wanting to join a virtual class and learn something new.
This is Skillshare's motto: "Our purpose is to make the new economy an open meritocracy, where the skills and expertise needed to succeed are available for anyone willing to learn them."
That's something we can definitely get behind! Gone are the days of hefty University and College fees, or needing to have certain grades to attend school, these days, people are learning information and skills online.
Of course, you aren't going to learn how to become a doctor, or get your law degree, but if you are interested in knowing more about animation, film production, graphic design, music, accounting, finance, marketing, parenting, web development, crafts and culinary, then you'll find those classes on Skillshare.
There are many free workshops and classes, but for more advanced ones you'll need to pay a fee. Sign up for Skillshare and receive a 1 month trial for free.
Learn a New Language
For travellers especially, learning a new language is one of the New Year's resolution ideas I would recommend. When visiting a new country, getting around without speaking some of the local language can be a difficult task. Between phrase books, online translators and hand gestures, it can be hard to get your point across.
If you're planning a trip to a particular region, or if you just want to learn something new, why not practice a new language?
Italki is the leader in online language classes. All you do is sign up, choose a teacher that suits your needs and enjoy 1-on-1 lessons at a time that works for you.
What's great is that you can choose where your teacher is from, the hourly rate you want to spend, and whether they are a native speaker, or are fluent.
Another great feature is that you set the program to choose which languages your teacher must speak (for us, it would be English), then from there you choose which language you want to learn (Arabic, Japanese, Spanish, French, etc.). Some teachers don't speak English, so for us it might be difficult to learn Japanese if it were fully immersive.
Click here to learn more about Italiki.
Learn From YouTube
The news is everywhere. Every time we turn on the TV, open the newspaper (do people still do that?!) or open up our Facebook feeds, there it is, the negative news. There's not much positivity (and in some cases, truth) when it comes to the news these days, so why not spend some of your time browsing independent media such as YouTube?
With YouTube, you can enjoy the inspiring and informational TED Talks or hear about the world's headlines from hilarious comedians (John Oliver, Russell Howard, Seth Meyers and Trevor Noah are our favourites).
For marketing and media strategies, Pat Flynn is probably our favourite channel, although GaryVee is one of the most popular. YouTube and podcasts are excellent outlets for learning about the world, and getting some inspiration and motivation to try something new.
Learn From a Local
Whether you're travelling or not, there's always more you can learn about your home country or the countries you visit. Joining a tour with a local offers you the best chance of learning about neighbourhoods, history and architecture. We always join walking tours and love getting an insider's perspective on the destinations we visit.
Even if you're from the city, there's a lot you can find out by joining a tour with a knowledgable guide. But, rather than just joining a cookie cutter tour, try meeting up with a local to experience the city through their eyes.
Withlocals is an excellent platform for connecting travellers and locals for a unique and rewarding experience. Each "tour" is private and every guide offers a different trip, while showing you their highlights, top restaurants, off-track spots, must-sees, and hidden gems of the city they know so well.
Choose the type of tour you're interested in (highlights, hidden gems, biking, food, etc.) and then choose the local that you think is the best fit for you. Your guide will then create a trip that suits your needs based on timing, how you want to get around, what you like to drink, sights you want to see, etc.
It doesn't matter how many books you read, or movies you watch, when you actually speak with a local, it's amazing how much you can learn.
New Year's Resolution Ideas: For Healthy Living
Whether you want to lose weight or not, living a healthier lifestyle is always a good thing. Eating healthy and doing some exercise doesn't have to be a challenge. For those of you who can't stand going to the gym, or who always purchase a gym pass and then never use it, here are some New Year's resolution ideas for how to be healthier this year…that you'll actually do.
Walk, Don't Drive
Hopping in your car and heading down the road is what most people are used to doing. But unless you plan to stock up on numerous bags of groceries, and the destination isn't 2 hours away, why not walk there instead? Driving or taking public transport is easier, sure, but if you want to get some exercise then consider walking to get from point a to point b.
This is especially true when travelling. Seeing all of the "in-between bits" of a destination is what it's about. Walk aimlessly around the cities you're visiting, or join a walking tour. After all that walking, you won't feel guilty for indulging in that pizza in Rome, or that perfectly cooked rib eye steak in Argentina.
Speaking of meat…
Try To Eat Less Meat
I'm not a vegetarian (tried that for a year and it wasn't for me) and I'm not a vegan, but I do believe that we as a society eat way too much meat. And in particular, red meat (beef). With so many plant-based options out there, it's quite easy to have meatless Mondays…and Thursdays. Try substituting meat for beans or tofu – Asian meals are especially good for this.
Or, eat more fish and chicken rather than lamb and beef. If you eat less red meat, not only will you be helping the environment (livestock plays one of the largest roles in damaging greenhouse gas emissions), but your heart and waistline will thank you as well.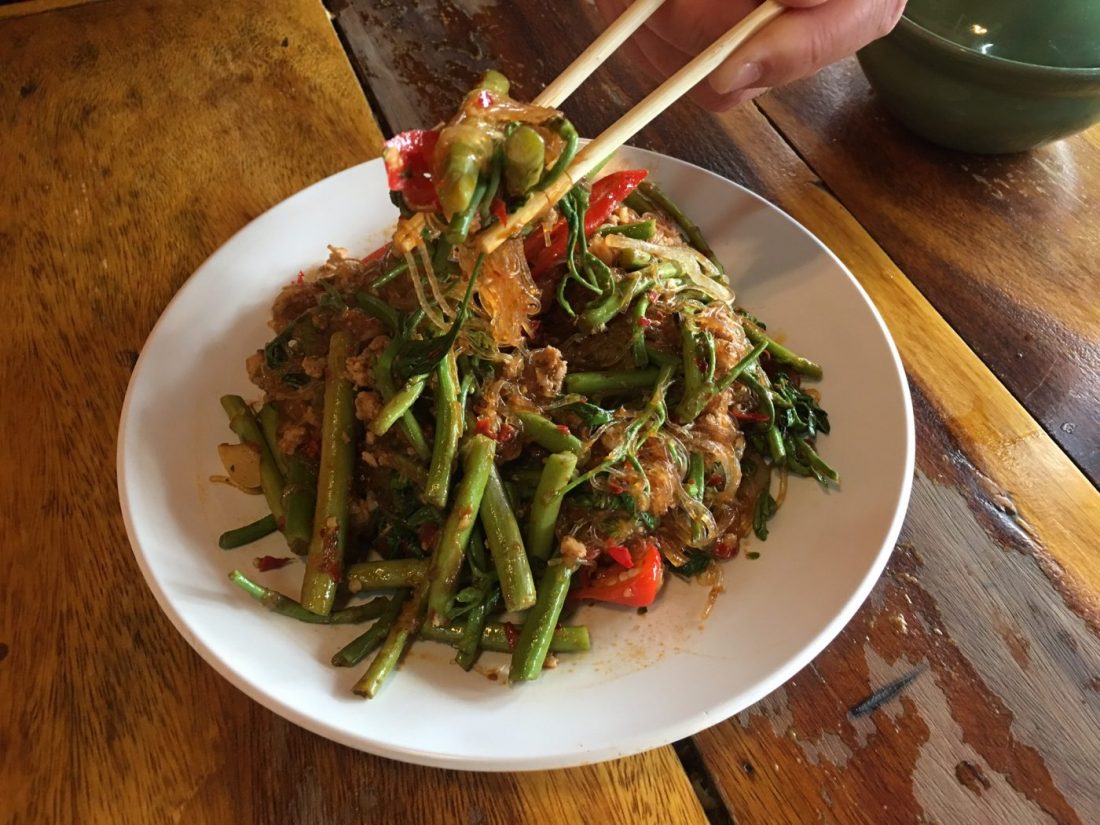 See Also:
10 Simple Ways To Be A Responsible Traveller  Cowspiracy Documentary Practice Yoga
Yoga is one of the best exercise programs you can do. It's good for your mind, body and soul. But, purchasing a yoga pass and finding time to go to the studio makes it less likely that you'll follow through on your New Year's resolution idea of doing more yoga. Luckily, you can do yoga from the comfort of your home – for free.
Yoga is great for strengthening and lengthening your muscles, toning and losing weight. Plus, it helps to calm your mind and ease stresses. As a bonus, this sort of exercising is easy to do anywhere. All you need is a mat.
You can find numerous free yoga programs on YouTube, or you can find free classes on Skillshare.
Prepare Meals Ahead Of Time
One of the main reasons that we all find ourselves snacking or eating unhealthy meals is because we don't want to take the time to prepare a healthy lunch or dinner. I've found that if we prepare food ahead of time and have it ready to go in containers, we're more likely to eat well.
If you drink smoothies in the morning, have all of your fruit and vegetables cut up and portioned into little bags. Put them into the freezer and each morning all you need to do is grab one out, toss it in the blender, add whatever else you want and mix. Washing and cutting the vegetables and fruit is the time-consuming part.
For dinners and lunches, making a large batch of food and then freezing it is an easy way to have grab n' go meals. Make a big pot of spaghetti sauce, chili, stew, soup, etc. and then all you need to do is heat it up and maybe cook some pasta or rice.
Try to prepare a week's worth of food and you'll find it easier to eat healthy this year.
Eat Local and Natural
What happened to eating real food?! These days, if you look at any labels, there are all sorts of ingredients that most people have never even heard of – not to mention, all of the fillers and added sugar. In my opinion, when it comes to New Year's Resolution ideas, clean eating is at the top.
This means cutting out sugars and processed foods and replacing them with fruits, vegetables, proteins and whole grains. Simple as that. When you go to buy a can of black beans, turn the can over and read the ingredients. If there is anything other than black beans, water and salt, check another brand.
I also recommend utilizing the ingredients around you and eating locally. For us living in the Caribbean, we have some fantastic fruits, veg and herbs with health benefits (soursop, morenga, turmeric, coconut), and we try to incorporate them into our daily diet.
Enjoy Less Screen Time
These days we're all more connected than ever. I'm not sure when it became socially acceptable to scroll through Facebook when hanging out with friends, or to text with other people while on a dinner date, but in my opinion, it's pretty rude!
When you're out with your friends, make it rule that whoever reaches for their phone first has to buy the next round of drinks. When you have people over at your house, put all of their phones into a box right away, not to be used until they leave. Limit the amount of time you can access social media accounts using apps like this one.
An overload of media increases risks of social anxiety, depression and stress. Give yourself a detox in 2019.
Less time with your nose stuck in your phone, while scrolling aimlessly through your Facebook newsfeed, means more time actually interacting with those around you. Without using your phone for a crutch when you're bored, just sit there with your thoughts for a few minutes. Imagine the ideas you could come up with.
These days we all want (and in many cases, need) our phones. This year, try to include using it less as one of your New Year's resolution ideas.
Put These New Year's Resolution Ideas Into Action
I hope that this list of New Year's resolutions gave you some ideas for ways to achieve your goals for the new year. Start by choosing a few of the items on this list. Setting too many goals might make you feel overwhelmed, so start with a couple and work your way up from there. But most importantly, have fun with the resolutions. Here's to a happy and healthy new year!
Like This Article? Pin it!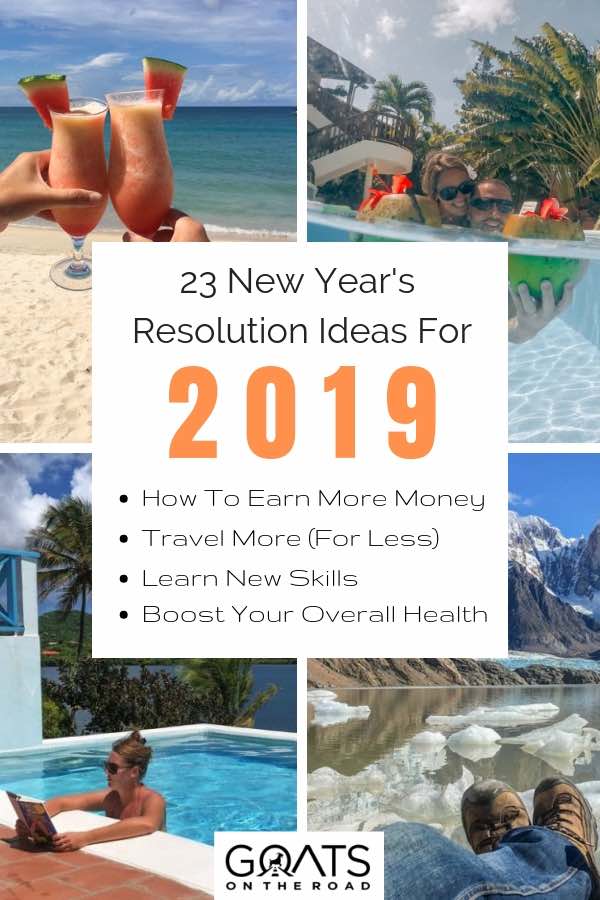 The post 25 New Year's Resolution Ideas For 2019 appeared first on Goats On The Road.
Read more: goatsontheroad.com